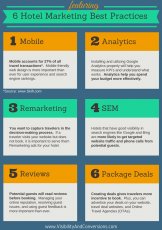 Today, I am going to talk about some online marketing strategies that Hotels can use to increase visitation without spending a fortune. There are plenty of digital marketing options available that are worth testing for hotels all over the world.
6 Best Practices:
Below is an image that details six different Hotel Marketing best practices. These are some important strategies that all hotels should consider when putting together a marketing plan.
Important Considerations:
For this article, I will pretend I am running a hotel in Oahu, Hawaii.
The Goal:
The goal online for any hotel is to increase visibility to potential guests. You want your hotel to be front and center when people are looking at their accommodation options in your area. When someone searches "Hotels in Oahu Hawaii" in Google, you want to have your hotel show up in the search results on the first page. In addition, you want your hotel to have good visibility based on reviews when someone visits their favorite Online Travel Agency (TripAdvisor, Expedia, Hotels, Orbitz, Kayak, Priceline, Travelocity).

You can never expect travelers to find your hotel – it is up to you to find travelers.

Target Market:
Before you ever start any campaigns, it's good to figure out a target customer. In my opinion, hotels have to be looking for customers who are just about set on their destination and who are in the accommodation decision-making process. For example, you want to reach people who have decided Oahu, Hawaii is their destination but have not settled on a Hotel or Resort yet.

In order to break it down by demographic, use the data from Google Analytics to find the ages and genders that are most likely to book.

Key Performance Indicators:
For hotels, you generally want to optimize for cost/conversion as your top key performance indicator (KPI). Website traffic does not equal business so you must track your marketing campaigns to see what is working and what is wasting budget. You can measure everything from bookings to actual revenue in Google Analytics.

Some other things you may want to measure are newsletter sign-ups, phone calls, and results from your promotions. In addition, you can also try to measure how many people are interacting with your booking widget.

Tracking and Testing:
The two most important keys to online marketing are tracking and testing. You want to track as much information as possible from your campaigns and run split-tests to find what works best. Some of the things you want to test are landing pages, ads, and ad targeting.

Imagine this scenario: You create 3 landing pages for an ad campaign and send 200 visitors to each landing page. Out of the 600 visitors, you measure a total of 80 conversions for a conversion rate of 13.3%. Landing Page #1 has a conversion rate of 20% while Landing Pages #2 and #3 only have a conversion rate of 10%. Therefore, you can select Landing Page #1 and continue to test your landing pages by just making small tweaks and improving.

Reviews:
Reviews are one of the most important factors for online success. I won't get into too much detail about review management, but it is important to respond to negative reviews online with a positive message. In addition, you should encourage guests to leave a review after their stay. Reviews will obviously be very dependent on your guests overall satisfaction at the hotel.

One of the biggest benefits of managing reviews is you will be able to understand the common pain points of your customers. Are the beds uncomfortable? Is the pool dirty? Are the rooms clean, tidy, and updated? Is the Wi-Fi too slow? These are all common complaints from travelers and you can understand where you need to improve to accommodate your guests.

Mobile-Friendly Web Design:
According to Skift, 27% of all travel transactions were completed on a mobile device in the first quarter of 2015. In addition, more and more travel transactions start with research on a mobile device followed by a booking on desktop or tablet.

Consumers are using their mobile devices more than ever so it is very important to be mobile-friendly. You can gain an upper hand on competitors by giving the best user experience possible on a mobile device and a seamless experience from mobile to desktop.

Online Travel Packages:
There is a huge reason why websites like TravelZoo and Sherman's Travel are so popular: Travelers want to get the best bang for their buck on vacation. One of the best ways to encourage more people to book at your hotel is to offer seasonal travel packages.