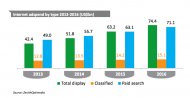 Global ad spend is on track to grow 5.5% this year to $537 billion, while Internet advertising will account for nearly one-quarter of that, at $121 billion, according to the latest forecasts out from ZenithOptimedia, a division of ad giant Publicis.
Overall it's a generally optimistic picture: the researchers say that this is the third revision of its 2014 figures that it has made, with this latest a 0.2 percentage point increase since December, "after recent signs of stronger growth from the Americas and Asia Pacific." And in Europe, where ad spend was down by 3% in 2013 and has dropped by 15% since 2007 and the start of the financial crisis, ZenithOptimedia now thinks it will grow by 0.7% in 2014, its first growth since 2010.
And while companies like Google have dominated the Internet ad space with search ads, the rise of ad tech and social media (read: Facebook and Twitter) appears to be changing that tide: Zenith predicts that by 2015 Internet display will overtake paid search at $74.4 billion versus $71.1 billion.
This year, however, search still rules the roost, with $55.7 billion projected to be spent on search ads compared to $51.8 billion for display and the more slow-growing area of classified ads, which will bring in $13.5 billion, and growing by just 6% annually from now until 2016.
Meanwhile, mobile continues to be a small but fast-growing proportion of business. In 2013, $13.4 billion was spent on mobile ads, some 13% of all Internet ad spend and 2.7% of all global ad spend, but by 2016 that will rise to $45 billion, or 28% of Internet ad spend and 7.6% of total ad investments.
"Mobile will leapfrog radio, magazines and outdoor to become the world's fourth-largest medium by the end of our forecast period, " the researchers at ZenithOptimedia write. (They do not break out mobile ad figures for 2014.)
The researches note that mobile includes all Internet ads to smartphones and tablets, including display, classified, search and in-app ads.
ZenithOptimedia says that Internet advertising will remain the fastest-growing category for ad spend, although its pace is slowing down somewhat. In 2013, it grew by 16.2% but that will decline to 16% between 2014 and 2016.
Within that, display at 21% is outpacing that growth, and even more impressive is the rise of social media advertising, which is currently growing at 29% each year.