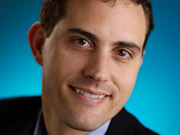 BATAVIA, Ohio (AdAge.com) - Self-loathing has become all too commonplace in marketing, as Bridge Worldwide CEO Jay Woffington sees it, and not entirely without reason. Young marketers or agency executives don't take long to learn they've dedicated their lives to creating stuff people seek to avoid, and with increasing success. But Bridge, a digital unit of WPP Group's Wunderman in, of all places, Cincinnati, ancestral homeland of Procter & Gamble Co. and interruptive advertising as we know it, thinks it has a disarmingly simple answer: "Marketing with Meaning."
That doesn't mean marketing whose meaning can be figured out (itself an improvement for many ads). Nor is it cause marketing per se - i.e., aligning a brand with a charity in hopes goodwill will rub off, like a guy who hangs around puppies or babies to attract women.
Rather, as Mr. Woffington and Chief Marketing Strategist Bob Gilbreath see it, the idea is to make the marketing the cause, with intrinsic value to consumers so it pulls them in rather than be thrust upon them where they can least avoid it.
"Consumers hate advertising, " Mr. Gilbreath wrote in a preamble for a WPP Digital-backed discussion group last year. "Meanwhile, consumers hate us - the marketers and advertisers who invent new ways to spam them online and offline. The result: CMO and agency turnover is rising dramatically, and advertisers are ranked below lawyers in terms of public respect."
'Not on my watch'
Bridge's alternative, according to Mr. Woffington: "How do you make sure your marketing is held up to the same standard the product is? ... P&G says their products improve people's lives. But how about the marketing? Does the marketing itself improve consumers' lives? ... That's a much higher standard than just selling more product."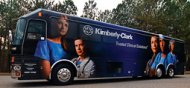 Trying to answer yes to that question is an approach, he said, that's helped Bridge attract talent to grow staff at double-digit rates for more than five years (currently more than 200) in a place not widely seen as a digital mecca. But it's also one Bridge believes is working for an ever-wider variety of clients, including not only P&G but ConAgra Foods, which has attracted more than 2 million visits to a healthful-lifestyle site since January, and Kroger Co., which has gotten more than 1.2 million votes on more than 35, 000 designs in a contest to create the grocer's national reusable bag.
The concept of marketing that in itself accomplishes something of intrinsic value is gaining growing currency beyond Bridge clients.
Kimberly-Clark Corp. this year rolled out a $2 million, three-year "Not on My Watch" program for a bus tour to teach nurses and others to combat hospital-associated infections that kill an estimated 100, 000 people annually in the U.S. Not only could the program save lives, said John Amat, VP-global sales and marketing for K-C Health Care, it could help save some of the $4.5 billion spent annually to treat such infections, much of which soon will no longer be reimbursed by Medicaid.
Johnson & Johnson in recent years has funded what it calls the world's largest database on children's sleep, said Bridgette Heller, global president-baby care, hoping to create a pediatric-sleep specialty in developing markets, prove the importance of sleep in child development everywhere, and, of course, point out to parents that giving their babies a bath before bedtime helps get them to sleep (which doesn't hurt the world's largest purveyor of baby bath soap).
Resources