A small business can greatly benefit from advertising online. Entrepreneurs should explore all possible means to promote their business and extend their reach through the online market. Using free online tools can be an effective way to advertise and help your business grow. What are some of these online tools?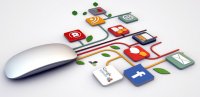 Facebook allows its users to create business or fan pages. Through these pages, a business can be promoted for free, and people can learn about any available products and/or services. Information like contact numbers and the business address can be provided on the page. Photos and specials from the business can also be posted online.
Similar to Yellow Pages, business owners get to have a listing on Google which will turn up when potential customers search for specific services online. Post information like contact numbers, address, opening and closing hours are listed. Customers will also see directions to the place because Google will provide a map listing of the business.