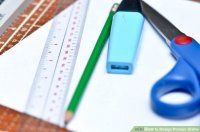 Steps
Choose your Layout. The best way to choose your layout is by viewing posters designed in the style you need, such as this list on 30 Inspiring Poster Designs or these 19 Inspiring Colorful Poster Illustrations . There are also many poster design tutorials available, such as these 35 Photoshop Tutorials for Posters. If it's informational posters you need, Student Posters contains variations of free informational poster templates for Word or PowerPoint.
Choose your Image. The image of your poster needs to be daring, unique, emotional, basically any photograph or graphic that will turn heads. For free stock photos, try Stock.xchng since this site contains thousands of free photos, many of which are available at the high resolution needed for poster design. EveryStockPhoto contains ratings and comments for stock photos that are available for free. Computer Arts contains pages of tutorials for creating eye-catching image effects in nearly any design program.
Choose your Fonts. You will need two different fonts for your poster design - one for the headline and one for the body text. 1001 Free Fonts contains well over 1, 001 fonts and each have a unique style. Over 13, 000 Free Fonts are on this site, and better yet, users make comments and rate the fonts, helping you to make a better choice. Keep in mind that the font you choose should be readable so that viewers don't get discouraged and miss your message.
Choose to Improve. Don't just settle for the first creation you come up with. Leave room for improvement. Ask for advice and thoughts from co-workers or other trusted sources. And make sure that you've met the criteria for a great poster design. Find great tips and tutorials on About.com's poster design site, read this advice on How to Design a Great Movie Poster, or go to the Poster Designers site for excellent tips and rules for the layout of a poster.
Choose the Right Printer. There are several factors you need to think about when sending out your poster design to the right printer. Make sure you send your file in the correct file format, resolutions and choose the best paper type most suitable for your design. Some stocks absorb and present color better than others.
Tips
Learning to design an effective poster takes time and effort, but it's completely possible with all of the help available online. So roll up your sleeves and get ready to dive into this new adventure in design. Just be sure to print your posters with a professional so that all of your newly acquired skills don't go to waste.