IAB Internet Advertising Revenue Report Shows 23% Increase Year-over-Year
— U.S. internet advertising revenues hit $15 billion in the third quarter of 2015, making it the highest quarter on record, according to the latest IAB Internet Advertising Revenue Report figures released today by the Interactive Advertising Bureau (IAB) and PwC US. This figure marks a significant 23 percent uptick over Q3 2014 and its then record-breaking total of $12.2 billion.
The latest numbers also represent a 5 percent increase from Q2 2015, which came in at $14.3 billion.
"These landmark figures confirm marketers' confidence in using digital to reach consumers, " said Randall Rothenberg, President and CEO, IAB.
"Brands and agencies are focusing ever more attention on interactive screens, following consumers as they flock to digital platforms to be entertained, engaged, and informed, " said Sherrill Mane, Senior Vice President, Research, Analytics, and Measurement, IAB.
"These numbers demonstrate that digital is a critical part of the marketing mix, " said David Silverman, a partner at PwC US. "Brands understand that interactive provides the type of rich, immersive experiences that attract today's audiences, no matter the environment or time of day."
The following chart highlights quarterly ad revenue since 1996; dollar figures are rounded.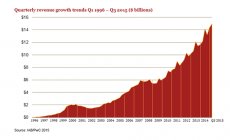 IAB sponsors the IAB Internet Advertising Revenue Report, which is conducted independently by the New Media Group of PwC. The results are considered the most accurate measurement of interactive advertising revenues because the data is compiled directly from information supplied by companies selling advertising on the internet. The survey includes data concerning online advertising revenues from web sites, commercial online services, free e-mail providers, and all other companies selling online advertising.
The full report is issued twice yearly for full and half-year data, and top-line quarterly estimates are issued for the first and third quarters. PwC does not audit the information and provides no opinion or other form of assurance with respect to the information. Past reports are available at
About PwC US
PwC US helps organizations and individuals create the value they're looking for. We're a member of the PwC network of firms, which has firms in 157 countries with more than 208, 000 people. We're committed to delivering quality in assurance, tax and advisory services. Find out more and tell us what matters to you by visiting us at