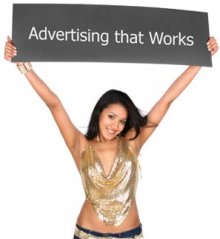 Advertising allows us to present our brand, product or service to the public, report their main features, persuade or encourage the purchase or use of our product, and make them remember about our existence. Advertising can bring you a lot of exposure and thereby profit. So for every products or services, advertising is inevitable. Without that you are losing a great opportunity to conquer your market.
We have already discussed some of the creative ways to promote your business and if you missed them, check out following articles:
If you are looking for advertising your online business brand, product or service, but still does not know how, here are 40 easy ways to advertise your business online and offline. You can opt these methods for effective advertising.
Advertise on television: Costly, But helps us to reach a mass amount of people.
Advertise on radio: Almost little audience, but still it has huge potential.
Publish a notice in a newspaper: you can either create a section related to your product or service, or in the classified section.
Publish an ad in a magazine: For example, in a journal related to the theme of our product or service.
Yellow pages: You can use a physical directory or yellow pages online.
In Internet classifieds: for example, Craigslist. It has large importance as far as advertising is concerned
Publish the address of your website in web directories: Directories either generic, for example, Dmoz, or subject directories, for example, country business directories.
Publish in PTC sites: for example, inClixSense, neobux etc.
Rent ad space on web sites or pages: for example, sites that provide opportunity to place your ads on them in exchange for a periodic payment. Buysellads is one of the best place to start with, and you can check out this blog listing here.
Rent advertising space in platforms on the Internet: for example, in a online game you can buy banner space to advertise your product if it is related to that.
Advertise on Facebook: Similar to the previous case, only our ad appears on the profile pages of Facebook users.
Search engine advertising: similar to the earlier case, only our ad appears in search results of search engines, for example, in the Google search results.
Send advertisements or advertising messages via email: Either to customers who have previously given us your email address, or people who have subscribed to our newsletter.
Rent a stall or stand in any local or international fair where we promote our products or services.
Enable a tasting station where we promote our products: for example, in a market, supermarket, shop or warehouse.
Participate in an event or activity where we can promote our brand: for example, in a sports competition where our team wear .
Organize an event or activity where we can promote our brand: for example, a fashion show where we disclose our clothing.
Sponsor a person or institution: for example, any sports personality in the local media, in exchange for using our brand products.
Send a note or press release to newspapers or other media: for example, one in which we communicate the approach of an event organized by us.
Print or advertising posters placed on the outside of our company vehicles: for example, in our vans.
Rent space in the outer third vehicle we place on them for our films or posters advertising: such as, in public transport vehicles that offers this possibility.
Advertise on the uniforms of our workers.
Advertise on our everyday clothes: for example, in advertising we have sent shirts to make and we use whenever we go out into the street.
Advertise on the packaging of our products: for example, we use boxes for transport.
Advertise on the bags delivered to our customers so they can transport...