"If I had asked people what they wanted, they would have said faster horses." Ford got the world driving – they were the original disruptors. The man leading the continued innovation at Ford is coming to Web Summit…
William Clay Ford Jr – or Bill as he's known – is the Executive Chairman of Ford Motor Company, a company founded by his great-grandfather Henry Ford. The man who gave us cars when we thought we wanted horses.
Having originally joined Ford in 1979 as a product planning analyst, Bill became the company's CEO in 2001 – a year when the company announced a $5.5 billion loss.
Under his stewardship, Ford bounced back to profitability and are now focusing on a future that isn't just about selling cars, but making cars that are cleaner and move more efficiently.
"We want to have an even greater impact in our next 100 years than we did in our first 100, " says Bill.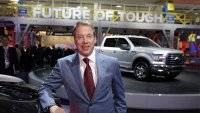 Explaining the partnership, Bill has said that the role of a corporation should be "to try to make people's lives better".
Part of Ford's vision for the future is bringing the world's most popular apps in the car with SYNC AppLink.
SYNC AppLink gives drivers safe access to their favourite apps while driving through steering wheel, radio, inbuilt display and voice controls. It's already used in over 2 million Ford vehicles worldwide.
We'll be holding the first Ford SYNC AppLink Developer Challenge in Europe during Web Summit. It's a 24-hour hackathon with a €75, 000 prize fund – you can read more about it here.