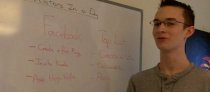 A website without visitors is a very lonely place
I am often asked: 'If you had to start over online, from scratch – what would you do to build up your traffic again as quickly as possible'
So assuming you are starting from scratch or your funds are limited here is my Kick Start Strategy For Bloggers – both in video and an expanded transcript below.
My Kick-Start strategy can be explained in 3 words:
Twitter, Facebook, Lists
This strategy allows you to leverage your time and talents for maximum results with out having to spend a lot of money and it is my Marketing Strategy of choice for all new bloggers and even established bloggers for that matter.
I say it on the video and I will say it here again — this strategy is SIMPLE but don't let the fact that it is simple put you off. Simple WORKS!
Of course if you have money to invest or you already have an established blog then the 'rules' are slightly different – but for a start-up blogger this is the way to go.
Enjoy the video and make sure to read the transcript. I have included some extra info in the transcript.
I look forward to your comments and suggestions.
very best wishes
Michael
Enhanced Video Transcript (Includes bonus tips not in Video)
Today I want to talk to you about something really cool. It's about how to get 1, 000 visitors in a day. One of the main reasons a lot of people fail is because they don't have traffic, and they just give up, they get fed up. I was working with one of my students today and he wanted to know what my recommended 'FREE TRAFFIC' Formula for new bloggers in 2010 was?
That is what this video is about and the formula is simple:
Twitter, Facebook, Top Lists
I'll explain Twitter first:
The first main thing you have to do with Twitter is set up a profile. It may sound a bit simple and you know, "Duh, " but it's not. You're going to have to have a profile picture. Don't just set up your profile, just create an account, and just start tweeting, thinking people are going to follow you. To get rapport with your audience and a quality FOLLOW (rather than an automated Follow) you need a profile pic and quality interesting tweets.
Set up your profile so you show where you live, something interesting about you.
For me that could be I live in Sussex, England, I am dyslexic, I am a Young Entrepreneur and I make 6 Figures online aged 21
So once you've got your profile, you want to start adding people.
There are a number of ways to do this – including automated ways (which Twitter frowns on) and of course the manual way. I will admit I have used automated methods in the past – but these days I am more selective and while I still use tools, I use them to help me manage the twitter accounts easily. (Tools for example that allow me to forward plan tweets).
When I first started I found some of the biggest names in my niche (Blogging and making money online) and I followed whoever they where following.
Now, when people see "Michael Dunlop's just added you, " they're going to see this really a cool guy, offering some cool stuff, and will think, "Hey, I really want to follow him." They'll follow me back, and they're going to check out my site, and check out what I have to offer, and, obviously, see my regular tweets. To help manage Twitter I use software out such as Twitter Adder and Market Me Tweet. (Highly recommended you check out)
The next thing is, of course, start tweeting. So many people have Twitter accounts but for some reason, they just don't tweet. The more you tweet, the more traffic you're going to get. If you tweet twice a day, say you get 100 visitors each time you tweet, that's going to be 200 visitors. If you tweet 10 times a day, you're going to get 1, 000 visitors. (Simplified – but the more you tweet and the more interaction you have with your followers and the more respect they have for you – the more traffic you will get)
A lot of people only tweet while they're awake – but with software like Market Me Tweet you can plan to tweet 24/7. If you're tweeting while you're asleep, that's a whole audience that probably don't get your regular tweets.
Using software to Follow, Un-Follow, Tweet and mange your Twitter account saves some much time and frankly if you are serious about Twitter then you will need to invest in these inexpensive tools. My personal favorite is Market Me Tweet, the only Twitter Application that allows you to Brand, Market, and Manage, all in one!
There is also Twitter Adder which I have had great success with in the past. Both Market Me Tweet and Twitter Adder allow you to add more people, but Market Me Tweet also gives you a bunch of extra branding options.
This is Important: Make your tweets interesting, newsworthy, fun, inspiring – and naturally include links to wherever it is you want your followers to visit. Personal Fun Tweets are also OK – but remember at this stage, your goal is to get traffic to your website.
Facebook and Facebook Fan-pages
This is something that's really starting to take off as a method of Traffic Generation. You have a popular blog – create a Fan Page for it
You want to create a fan page, telling a bit about you, and your website, and why to become a fan. Invite all your friends. When your friends join, they're going to see that you've joined this group, and then think, "Oh, my friend's joined, I'm going to join that." And then it just sort of goes viral and spreads.
There are other ways to grow your Fan Page quicker such as this tip I learned from Joshua March of when he spoke at Yanik Silvers Young Mogul Day. He said to find someone high profile in your niche, a bunch of them, and ask them to become a fan, because all their followers will then see them becoming a fan and a good number are likely to follow your lead.
Again – as I mentioned above this only works if what you are blogging and tweeting about is interesting, newsworthy, fun and inspiring. No big name is going to become your Fan unless they can see there is something worth being a Fan of.
Do this right and literally overnight, you'll get hundreds and hundreds of people joining your fan page. Something really powerful you should consider doing.
The next thing is, obviously, posting messages. Like, again, with Twitter, so many people have Facebook and Twitter, they just don't post. Constantly post. Not just your own stuff. Tweet other people's things and Facebook other people's things, and they'll then do the same for you.
More Help with Fan Pages:
Michael's Power House Of Traffic – Top Lists
Now the really powerful stuff starts. I shall pull my sleeves up for this one.
Top Lists, Top Lists, Top Lists!
If you have been following me you will already be familiar with some of my Top Lists (and I am including links below)
For me the list could be "Top 30 Bloggers." or "Top 30 Richest Internet Entrepreneurs, " or "Top 30 Female Entrepreneurs."
But lets say you are in the Food or Restaurant Niche – then the lists could be: "Top 30 Celebrity Chefs, " or "Top 30 Restaurants In London, " Or of in Golf Niche it could be "Top 30 Richest Golfers, " or if it is Celebrity Niche it could be "Top 30 Richest Latino Actors."
The next thing you want to do is either create the list yourself or outsource it. I admit it – a lot of my lists are outsourced but when I started I of course could not afford that and did all the work myself. Lists can be quite Time Intensive (several days work some times) so I uses services such as TaskUs.com. Or you could use SitePoint.com or DigitalPoint.com to find somebody there who would go and do the work for you.
Resources