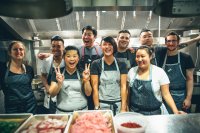 The food and beverage industry is cooking up more events than ever before in 2014, the number of food and drink events on the Eventbrite platform increased by 47% compared to the previous year. We analyzed more than 40, 000 of these events in our look at this year's top food and drink event trends and found that the fastest growing trend was the pop-up dining experience (82% growth).
Pop-up dinners are one-time food events that offer guests a taste of something different. Whether it's an unexpected location, a personal interaction with the chef, or a unique menu or theme, these events cater to the "Experiential Diner"—who craves not just an amazing meal, but a new and exciting dining experience. From a "Top Chef" collaborative dinner, to underground supper clubs, and a funky fried chicken series, we're seeing these one-of-a-kind dining experiences pop up all over the Eventbrite platform.
This shift towards ticketed experiences is creating a new kind of entrepreneur — up-and-coming chefs are turning to events to build their brand and highlight their creativity without necessarily being tied to a brick and mortar restaurant.
"Launching my pop-up, Co+Lab, is helping me to create a business of my own. As an entrepreneur I've always wanted to have a restaurant and pop-up events have given me the opportunity to present my food to people and let them experience what I have to offer." – Chef Melissa King, Top Chef Season 12, creator of Co+Lab the pop-up.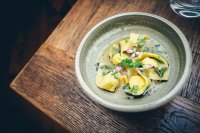 To explore the value of these events and the guests who attend them, we surveyed more than 2, 000 people that attended a pop-up dining experience on Eventbrite last year. Here's what we found:
Pop-up dining events attract guests who are willing and eager to pay more for a unique dining experience.
Three in four (75%) pop-up event attendees believe it's worth paying more money for a unique dining experience. In fact, 50% of respondents say that even with the exact same menu, they'd be willing to pay more for a meal at a pop-up event with a chef interaction than for a meal at a regular restaurant ($58 dollars more per person on average).
Cost is not a major concern to the experiential diner — 59% don't feel that a pop-up dining event's cost is very important when deciding whether or not to attend. What is important? A unique menu or theme (84%), events that promise to be one-of-a-kind (74%) and a memorable location (76%). More than four in five (83%) would rather attend these events in non-traditional venues over restaurants.
Industry Tip: When pricing your tickets, remember that guests will shell out the dough for a premium experience. Play up the unique aspects of your event in your marketing, whether it be a rare ingredient or an unexpected venue. This is especially true for the newest generation of diners. Over half of millennial diners admit they are more likely to attend events if they are exclusive or secret. Experiment with revealing your location the day of the event, or offering limited seating at a chef's table to create excitement around a can't-miss experience.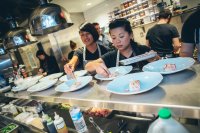 Experiential diners are embracing the ticketing trend.
Eight in ten (80%) pop-up event attendees say they actually prefer to buy tickets in advance rather than pay at the end of the meal. It creates a more relaxing environment for both the guests and the chef, so that the day-of can be all about the food. These diners view the meal as a valuable experience that they expect to pay ahead of time for, much like a concert or sporting event.
On average diners said they'd pay $98 for a ticket to a pop-up restaurant event with a meal prepared by their favorite chef, surpassing what they'd be willing to spend on a performance by their favorite band ($96), or on a ticket to see their favorite sports team ($74). These diners are also open to innovation when it comes to alternatives to the restaurant reservation system: 55% say they would dine just as often or more often at a restaurant they liked if it required a pre-paid ticket.
Industry Tip: Pre-paid ticketed dinners are a win-win. Guests don't have to worry about the bill looming at the end of the meal, and you'll know exactly how many seats you need to fill to turn a profit—while avoiding food waste and lost revenue due to no-shows. You can even offer the option of paying for add-ons or alcohol pairings at the time of purchase so that the focus of the meal is the food, not the bill.
"There are so many chefs out there, they have their restaurants, their day jobs, but they're looking for something more. That's what the pop-up culture offers them. They are able to take over someone's space for only a few hours and convert it into their own identity. It's not just about the food, it's about creating a memorable experience for the guests." – Chef Melissa King, Top Chef Season 12, creator of Co+Lab the pop-up.
These diners are lucrative, influential tastemakers that dine out and go out often.
Experiential diners tend to be the leaders and influencers in their social circles – 65% say they often plan big group outings among their friends, and 72% say that people often come to them for restaurant recommendations. When they like a particular restaurant or chef, they are strong advocates – over a third (37%) post online reviews directly following a good experience, and nearly two-thirds (62%) have posted food photos on social media in the last three months.