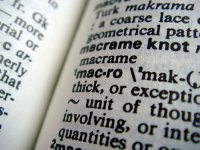 Keyword Marketing: How to Use Keyword Based Advertising
Keyword Advertising is a method of advertising on search engines by utilizing keyword research.
The most important element of keyword search advertising is to bid on highly relevant keywords. The more relevant your keywords are to your business and website, the more cost effective your online marketing campaign will be when you buy keywords.
As a best practice to buying keywords, first select keywords that relate to your business, then craft text ads that incorporate these advertising keywords. When visitors click on your ads in the Search Engine Results Page (SERP), you pay the amount that you've bid on the keyword. This process is known as pay-per-click (PPC) advertising.
Online Keyword Advertising: Searching for Keywords
Keyword marketing is an investment—while you must spend money bidding on keywords and pay for the clicks your advertisement receives, ideally the revenue you'll gain from visitors and the resulting conversions will make your keyword advertising investment well worthwhile.
The amount you must spend buying keywords when you advertise on Google through bids is determined by how competitive a keyword is. The secret to keyword based advertising is discovering your sweet spot of less competitive (and therefore less expensive) and yet highly relevant keywords through keyword research. These valuable keywords are often referred to as "long-tail keywords."
Creating a successful PPC keyword advertising campaign is largely dependent on discovering these high-value keywords. WordStream offers keyword advertising software that can help you discover and utilize these top-notch keywords to optimize your online advertising campaigns.
Keyword Search Advertising: Using Ad Groups for Keyword Targeted Advertising
Organization is essential for keyword targeted advertising. It's not enough to simply generate a list of keywords—even with a list of profitable long-tail keywords, to receive your maximum return on investment, it's crucial to group your keywords effectively.
Grouping keywords into a semantically and logically organized hierarchy makes prepares your for easy ad group creation. Semantically organizing your keywords makes creating PPC ads significantly easier because you can write ad text that applies to all related terms simultaneously.
By organizing your keywords into small themed segments and bidding on relevant keywords, you can expect many valuable benefits for your pay-per-click keyword advertising campaign:
Keyword Search Advertising: WordStream's Keyword Advertising Solutions Make it Easy