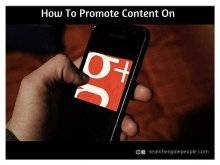 While Google+ may not be as prolific a social network as others (Facebook, Twitter, etc.), it is still an invaluable platform for content promotion. Google+ promotion tactics range from organic to paid, though currently, Google+ ads aren't yet as extensive or popular as their counterparts on other platforms.
Despite the limitations of the network and it's still developing ad options, your brand can leverage Google+ to extend the reach of your content and include it in your overall social media marketing strategy. The below tips will help you develop and execute a Google+ promotion strategy to ensure your content has maximum impact.
1. Find What Works
When it comes to posting on Google+, refer to your Google+ dashboard. Identify the types of content that are performing well. You should also check your social referrals in Google Analytics and determine if your Google+ efforts are driving traffic to your website.
2. Consider Google+ Ads
Paid tactics are not as extensive on Google+ as they are on other platforms. However, you may want to consider executing a paid campaign on Google+, especially if you have an engaged Google+ community or a significant number of Google+ traffic referrals. +Post Ads are slowly gaining traction among major advertisers. However, keep in mind that when you execute a +Post Ad, viewers can post their comments directly into the ad unit itself. Also, you have to have at least 1, 000 followers on Google+ in order to turn your posts into ads.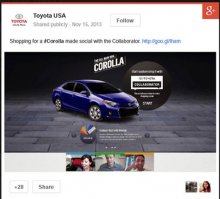 3. Develop A Content Calendar
A content calendar can help you determine when (and what) to post. While it will impact the frequency of your Google+ posts, we recommend synchronizing your Google+ postings with your Facebook or Pinterest updates. Furthermore, it's important to leave flexibility in your calendar so that you can incorporate trends, hot topics and memes to boost post engagement.
Google+ promotion of content tends to work best outside of business hours, as engagement on the network is typically at its highest during evenings and weekends.
4. Use Proper Formatting
An integral aspect of Google+ promotion is using the right formatting to help boost post engagement. We recommend the following parameters:
Keep your headline to 60 characters or less
Treat all Google+ headlines like micro blogs and choose your keywords carefully
Use images
Include links
Use relevant hashtags - always include at least one hashtag in your Google+ updates. If you don't actively hashtag, Google+ will often select a random (occasionally irrelevant) hashtag to accompany your posts
Include video updates whenever possible as they tend to receive significant engagement within the platform
5. Engage With Communities
Add your content to Google+ communities and engage with other community members by replying to or commenting on their updates. Also, don't be afraid to ask for follows. Encourage people to follow your by using a strong CTA or value proposition. Always respond to post comments in a timely manner, and thank users for engaging with your content or ask follow-up questions when appropriate.
6. Optimize And Segment
Optimize your Google+ profile by adding links to connect all your social channels, especially your blog. Be sure to segment your circles based on topic or demographic - for example, B2C or B2B, etc. A great Google+ promotion strategy is to push out tailored content to each circle. This makes it easier to maintain your following as your content is always relevant for that specific audience.
7. Take Advantage Of Hangouts
A great feature of Google+ is "hangouts". Essentially, hangouts is an instant messaging and video chat platform, similar to Facebook chat or Skype. You can take advantage of hangouts in order to drive community activities. Here are some helpful tips to help leverage this features:
Use long-tail keywords as topics for your hangouts
Lead video chat sessions
Save recorded video sessions and repurpose them on your other social media channels accordingly
8. Engage With Influencers
Identifying and engaging with influencers can help you expand the reach of your content by leveraging their networks as well as your own. Use Google+'s "Find People" suggestions, connect with influencers and add them to your circles. Filter influencer search results by topic, shared circles, and large or small (niche) communities. Share influencer updates to build partnerships and add to your content arsenal.
Conclusion
If you employ these tips on Google+, promotion of your content will be much more effective. By following best practices for this platform, it can become a very valuable facet of your overall social media marketing and content marketing strategy by maximizing the reach of your content, building community, and establishing brand authority.