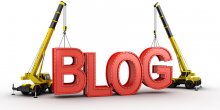 When it comes to advertising your construction business online, blogging is one of the most worthwhile ways to spend the time you've set aside for advertising. Writing short articles or posting photos from your jobsites is a great way to build authority for yourself and your business. And it gives customers a sense of what they're in for when they go into business with you.
Blogging Best Practices
I have two main rules when it comes to blogging:
Blog regularly – You can blog as little as once per week, but the more you blog the more effective it is. Filling your blog with content could be something as short as posting a news article for your community to comment on, posting photos or videos from your jobsites, providing useful industry-related information that helps position you as an expert, and so much more. Again, this is not for the truly time-pressed – blogging is a Commitment (with a capital 'C'), your blog should be updated regularly to see the biggest ROI.. People tend to get turned off when they land upon a blog that hasn't been updated in months.
Voice matters – Before sitting down to write, think about how people in the construction industry like to talk to one another. People in construction are very matter of fact and down to earth – your writing should reflect that. Write how you talk because that's the kind of writing people relate to in a blog and it's what makes people want to revisit your website. Your writing voice will help potential customers get an idea of who you are and what it might be like to do business with you.
Setting Up Your Blog
If you have a website, adding a blog is pretty simple via sites like or . Getting a hang of the software does take some time, but once you get it you'll find that setting up and publishing posts is quick and easy. Here's a discussing how to set up a WordPress blog.
What to do if You're Short on Time
To do blogging right, you've got to commit. Once you get the hang of your software and get into a rhythm of writing, a blog post really shouldn't take more than 20 minutes. But let's face it – finding an extra 20 minutes a week can be incredibly tough. For free content that you don't have to write, consider sourcing a writer from a local college. This can be as simple as writing an email to the school's department head and asking them to share the job description with their students. Once students get in touch, ask for a couple of writing samples to be sure you'll be getting quality work. Then set them up with some topics you'd like to cover and a deadline. It's a win for both sides – you get free content and the students get to build their professional writing portfolio for when they're out in the real world.
Now go ahead and get blogging! For extra points, be sure to mention your blog posts with links on all of your social media platforms to ensure your efforts get as much exposure as possible.
This blog post is the second of three posts meant to help construction companies understand simple methods for marketing themselves online, getting maximum effect for as little time and money as possible. You can see the first post on social media here