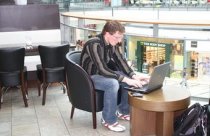 Savvy entrepreneurs leverage the power of the Internet to advertise for free.
Mensch und Computer 38 image by Sven Rausch from Fotolia.com
The Internet makes a number of innovative, free advertising techniques available to entrepreneurs on a tight budget. While there are expensive Internet advertising methods guaranteed to reach a vast audience, a number of free techniques can spread your advertising messages over a wide audience or directly to a targeted niche.
Step 1
Build your website with an eye for search engine optimization (SEO) to help your business rank higher on Internet search results. Place high-traffic, highly relevant keyword phrases in strategic locations throughout your website, including in meta tags, titles and link text. A comprehensive keyword research tool from Google will help you find popular search phrases (see Resource).
Step 2
Contact other companies for banner swaps and link exchanges. You might be surprised how many of your competitors, suppliers and clients will be willing to post a link or banner ad on their site in return for the same on yours. Trade links and Web advertisements with different types of businesses in your industry as well, to further increase your free exposure.
Related Reading: How to Advertise to Promote a Product on the Internet for Free
Step 3
Send your company's information to free online directories. Webmasters often set up free websites filled with related links, then bring in revenue from advertising tools such as Google's AdWords. These webmasters should be more than happy to list your business on their website for free.
Step 4
Pay special attention to customer service to take advantage of product/service review websites. Word-of-mouth advertising goes to the next level on the Internet. Websites like angieslist.com allow customers to post reviews of businesses that can be read by thousands of potential new clients. Scoring a high percentage of positive reviews can allow you to leverage these resources to increase awareness of and preference for your brands.
Step 5
Post links to your website on relevant discussion forums. If you run a financial services firm, for example, consider posting relevant discussion on current topics on various personal finance forums, and include a link to your company's website with your posts. Beware of the 80/20 rule in message board promotion: 80 percent of what you post should be informative and relevant, and the other 20 percent can be self-promotion. Any more than 20 percent self-promotion can detract from your credibility.
Step 6
Submit informative articles to online publications, and maintain an informative blog. This technique follows the same approach as posting on discussion boards. Provide timely, informative and relevant information for free to the public while exposing readers to advertising and promotional messages.