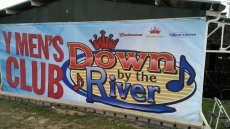 Our banners are priced based on the size (height x width), quantity of each design, type of material, finishing options, and whether or not you need our designers to create your artwork. Due to the myriad options that are available, it is nearly impossible to price banners simply by the square foot.
Banners come in all sizes, from 1' x 2' to 80' x 130' and beyond. 3' x 8' and 3' x 6' are two of the more common sizes we print, but the best size for you will depend on the location you are hanging the banner and the distance your banners will be viewed from.
What material is best for your banners will depend on a few factors. Are your banners going inside or outside. Printed on one side only or are they double-sided banners. Will they be exposed to strong winds over a long period of time, or used for a few days and then never used again. All of these factors determine which material would be best for your particular needs. Our standard banner material is 12 oz vinyl. This is suitable for interior or exterior applications, as it holds up well to wind and sun. In particularly windy conditions, mesh may be preferable to vinyl. The mesh weave minimizes wind resistance and allows air to pass through the material. Mesh also typically weighs less than vinyl, which can be helpful during installation of a banner which is several hundred to a few thousand square feet in size.
The finishing options on banners are numerous. This includes sewn or heat welded hems along the edges, reinforced webbing inside the hems to add reinforcement and increased strength (particularly helpful for exterior banners), pole pockets, and a variety of edge treatments (grommets, D-rings, velcro) used to attach the banners. Another blog post will be written explaining all of our different finishing options.
Artwork and design is the final factor effecting price. For all orders, we have a $75 fee that covers our expense associated with preflighting and proofing the artwork, set up and RIP time, labor, and press-proofing each design for color, RIP accuracy and content, and file archiving. We can (and sometimes do) adjust that amount on an order with multiple designs that we know will all process very similarly – same colors for color matching, same elements for RIP etc where charging $75 for each and every file is excessive. For this reason, a quantity of 1 banner is going to cost more on a per unit basis, than 2 or more banners of the same design. It is also why a 2' x 3' banner will cost more per square foot than a 10' x 24' banner.
We have a team of designers that are experienced at designing banners. We can use your ideas, logos, or images to design an eye-catching banner that will represent your company or event in a professional manner. We can also find the perfect image for you from stock photography, and design from scratch using your ideas & input.