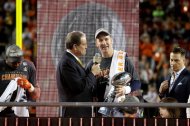 Anheuser-Busch InBev plunked down about $15 million for Super Bowl advertisements this year to promote its Budweiser and Bud Light brands. But one of the company's most memorable plugs during Sunday's game—from Denver Broncos quarterback Peyton Manning—came for free.
In a post-game interview with CBS's Tracy Wolfson, Manning said he planned to "drink a lot of Budweiser" to celebrate his Super Bowl victory. A few minutes later on the winner's podium, the five-time National Football League MVP again brought up the popular brew, saying, "What's weighing on my mind is how soon I can get a Bud Light in my mouth."
Though Manning wasn't paid for his Budweiser promotions, his actions might not have been totally without calculation: He's part-owner of two Anheuser-Busch distributors in his home state of Louisiana, Yahoo News reported.
The long-time NFL quarterback also promoted Papa John's during the post-game festivities by publicly embracing company founder John Schnatter. Manning owns 32 franchises of the pizza chain in Colorado.
Active NFL players are not allowed to endorse alcoholic beverages, per league rules. But if the Super Bowl was indeed Manning's last game of professional football, many are speculating that he may have just taken the first step to securing himself a regular gig as a Budweiser spokesperson.
Resources