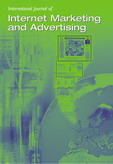 | | |
| --- | --- |
| Browse issues | IJIMA is listed in: |
Honorary Editor-in-Chief
Eldon Y. Li, National Chengchi University, Taiwan
Editor in Chief
Yen, HsiuJu Rebecca, National Tsing Hua University, Taiwan
(hjyenmx.nthu.edu.tw)
Associate Editors
Avlonitis, George J., Athens University of Economics and Business, Greece
Gabbott, Mark, Monash University, Australia
Garcia-Madariaga, Jesus, Universidad Complutense de Madrid, Spain
Guan, Chong, SIM University, Singapore
Hanson, Ward A., Stanford University, USA
Liljander, Veronica, Swedish School of Economics and Business Administration, Finland
Littler, Dale A., UMIST, UK
Richards, Jef I., University of Texas at Austin, USA
Yim, C.K. Bennett, The University of Hong Kong, Hong Kong SAR, China
Editorial Board Members
Abe, Makoto, University of Tokyo, Japan
Brown, Stephen, University of Ulster, UK
Brown, Stephen W., Arizona State University, USA
Chakravarti, Dipankar, University of Colorado, USA
Chattopadhyay, Amitava, INSEAD, France
Currim, Imran, University of California, USA
Diamantopoulos, A., University of Vienna, Austria
Edvardsson, Bo, University of Karlstad, Sweden
Ewing, Michael, Monash University, Australia
Farris, Paul W., University of Virginia, USA
Finn, Adam, University of Alberta, Canada
Franke, George, University of Alabama, USA
Ghauri, Pervez N., Kings College London, UK
Ghosh, Avijit, College of Business, USA
Gorn, Gerald J., Hong Kong University of Science and Technology, Hong Kong SAR, China
Greve, Goetz, HSBA Hamburg School of Business Administration gGmbH, Germany
Grewal, Dhruv, Babson College, USA
Gummesson, Evert, Stockholm University, Sweden
Haugtvedt, Curtis P., The Ohio State University, USA
Hennig-Thurau, Thorsten, Bauhaus-University of Weimar, Germany
Howell, Roy, Texas Tech University, USA
Hui, Michael K.M., Chinese University of Hong Kong, Hong Kong SAR, China
Kumar, V., University of Connecticut, USA
Leckenby, John D., University of Texas at Austin, USA
Lee, Angela, Northwestern University, USA
Lee, Kam-Hon, Chinese University of Hong Kong, Hong Kong SAR, China
Leigh, James, Texas A&M University, USA
Lemmink, Jos, Maastricht University, Netherlands
MacInnis, Deborah, University of Southern California, USA
Malhotra, Naresh K., Georgia Institute of Technology, USA
Mattsson, Jan, Roskilde University, Denmark
McKee, Daryl, Louisiana State University, USA
Midgley, David F., INSEAD, France
Mohr, Jakki J., University of Montana, USA
Morgan, Robert M., University of Alabama, USA
O'Guinn, Thomas C., University of Illinois at Urbana-Champaign, USA
Parasuraman, A. "Parsu", University of Miami, USA
Pels, Jaqueline, Universidad Torcuato Di Tella, Argentina
Peterson, Robert A., University of Texas at Austin, USA
Phelps, Joseph E., University of Alabama, USA
Piercy, Nigel, The University of Warwick, UK
Preston, Ivan L., University of Wisconsin, USA
Reibstein, David J., University of Pennsylvania, USA
Reid, Leonard N., University of Georgia, USA
Rotfeld, Herbert J., Auburn University, USA
Ryan, Patricia, Macquarie University, Australia
Samiee, Saeed, University of Tulsa, USA
Sawhney, Mohanbir S., Northwestern University, USA
Shimp, Terence A., University of South Carolina, USA
Spekman, Robert E., University of Virginia, USA
Srivastava, Rajendra, Emory University, USA
Stewart, David, University of Southern California, USA
Vilcassim, Naufel J., London Business School, UK
Vrontis, Demetris, University of Nicosia, Cyprus
Ward, Scott, University of Pennsylvania, USA
Yadav, Manjit S., Texas A&M University, USA
Yusuf, Farhat, Macquarie University, Australia
Zwick, Rami, University of California, Riverside, USA
A few essentials for publishing in this journal
Submitted articles should not have been previously published or be currently under consideration for publication elsewhere.
All our articles are refereed through a double-blind process.
Submission process
Resources
A digital marketing strategy is an important part of the overall marketing strategy of a business. This is true whether or not a company is doing business online. It is also true for a small, medium but especially true for a small business business, marketing, online, strategy, company This strategy revolves around giving a prospective customer information about your product or service, as well as information in general. Everyone is trying to sell, but those that can inform are more likely to get sales.