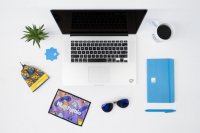 Mashable Shop will feature the publisher's own merchandise, like branded sunglasses and a hacky sack. Credit: Courtesy Mashable
Digital publishers are looking for all kinds of alternatives to the traditional banner ad. They've typically looked at new ways of fusing editorial and advertising - sponsored articles, branded videos, etc. - but Mashable has come up with a way to add e-commerce to the mix.
On Cyber Monday Mashable will open Mashable Shop on its site. And in a native advertising spin on e-commerce, the new e-commerce section of Mashable.com will be sponsored by Visa and incorporate the company's Visa Checkout payment service.
Mashable Shop will be in business through 2016 and feature products from some brands that Visa considers partners as well as a few tech products from crowdfunding site Kickstarter. It will also feature Mashable-branded clothes and accessories created by Mashable's creative arm, Collective, which also runs its Snapchat Discover channel, in an effort to promote Mashable's own brand. In addition to the revenue from Visa's sponsorship, Mashable will only be making money from sales of its own goods, which will include Mashable-branded hoodies, sunglasses and a hacky sack. Revenue from Visa partners' products and the Kickstarter products will go entirely to their respective creators, according to Mashable CMO Stacy Martinet.
"For us this is more of a brand play than a revenue play, " Ms. Martinet said. She added, "We are not looking at this as an e-commerce play."
However, it is an advertising play. Visa already runs ads on Mashable, including a sponsored content series to promote its PayPal-like digital payment service Visa Checkout. But interspersing interviews with NFL stars with clips of Visa Checkout isn't the same as actually getting people to use the service that lets people buy products online without having to fill out a bunch of forms each time they do. That's where Mashable Shop comes in.
As part of the sponsorship deal, people buying products through Mashable Shop will only be able to make the purchases using Visa Checkout, which can connect to a person's MasterCard, American Express or Discover credit or debit card. That way Visa can offer something new to the 8.5 million people who already use Visa Checkout as well as attract more of those people, whose characteristics - tech-savvy, millennial early adopters - overlap with Mashable's audience, according to Sam Shrauger, Visa senior VP-digital solutions.
"It's an evolution of the marketing, advertising and commerce capabilities coming together. That's exciting because I think it's a good leading indicator of what you'll see a lot of folks in the space do, " said Mr. Shrauger, who wasn't sure how much Visa is spending on the campaign. A Mashable spokesman declined to comment on the amount of money changing hands.
Resources