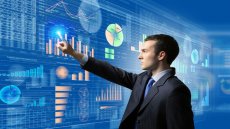 For most people running a company in the 21st century, Internet marketing strategies are an indispensable part of the business plan. While small businesses such as local shops may require some form of web marketing, any business that wants a broad customer reach should research the potential of a solid Internet marketing strategy.
As commerce continues to go global, companies that lack an easy-to-find, accessible website – the cornerstone of web marketing – won't reach customers that don't live in the same town or have never heard of the company. For businesses that aren't household names, such as Coca-Cola® or McDonald's®, global visibility begins on the Web. Having a sound Internet marketing strategy ensures the best chance of success.
Approximately 63% of the U.S. population will make a digital purchase this year, yet only 6.5% of U.S. retail sales are expected to come from Internet transactions, increasing to 8.9% by 2018. Source – eMarketer.com
Mobile
With widespread growth of tablet and smartphone use, access to the Internet through a mobile device will be available to about 60% of the population, or 215 million people, in 2015, according to emarketer.com.
Mobile optimization will be an integral part of a website design now and in the foreseeable future. Websites will need to be mobile friendly, and mobile usability is a factor for Google search rankings.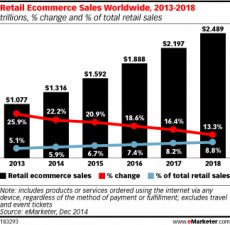 As access to the Internet through a mobile device continues to grow, businesses will need to adapt in all areas of digital marketing: responsive website, mobile ads and mobile designed content.
Social Media
Social media networks also showed increase in membership and usage. There are multiple social media platforms and different strategies to use on each. All have their place in a social media strategy. Nearly three-fourths (72%) of U.S. adults who are online use Facebook, according to Pew Research. Women dominate the usage as the statistics below show.
Businesses continue to refine their tactics and strategy with a focus on:
Engagement: How to engage the audience and best connect (customer service).
Audience: How to find and target their audience
Tools: What are the best social media tools?
Measurement: How to measure their return on investment from their social activities?
"Social media means that good customer service is the same as good marketing, " - Michael Hyatt, "Why Customer Service Is the New Marketing" (michaelhyatt.com)
Email marketing will continue to be a part of Internet marketing strategy and should be in sync with content and social media. According to exacttarget.com, most U.S. consumers (72%) prefer email marketing, and 40-60% of consumers are reading email on smartphones.
Email needs to work across all devices. The number one priority for online marketers is to redesign an email to improve click through rates on a mobile device.
In a recent survey of marketers 91% were using email marketing campaigns. Below are some of the tactics and results as reported by exacttarget.com:
Email capture via Facebook was found to be used 45% of the time, and 31% rate it as effective.
General email signup on the website used by 74% of respondents. Respondents rate it as 42% effective.
Sign-up requests specific to different sections of the website were used by 52% of participants and are 45% as effective.
Email lists experience a 25% attrition rate due to bounces, unsubscribes, and inactive users. A big reason for customers to unsubscribe is because the content consistently doesn't relate to them. Besides content that doesn't relate, marketers need to monitor their email frequency. If customers are opting out at a growing rate then you have to question the frequency of your email – are customers overwhelmed by the amount of email you're sending? - would be the next thing to look at after content.
Content
Content is the cornerstone of online marketing strategy. Creating good content in a sea of competition and distraction is a challenge. Budgets for search-engine optimization (SEO), pay per click (PPC) and media could be impacted by the need for more frequent and higher quality content.
Content is also a Google ranking factor and will help sites attract high-quality inbound links, build trust, credibility and authority with your audience.