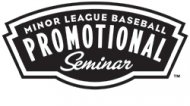 The 2016 Minor League Baseball Promotional Seminar will take place Sept. 27 - 29 at the Sheraton Birmingham Hotel in Birmingham, Alabama.
The three-day idea-sharing seminar offers attendees the opportunity to recap the successes and challenges of the previous season with their colleagues. The event also features a trade show, job fair and a variety of speakers, making presentations on topics including sales and marketing, promotions, community and media relations, stadium operations and more. Aside from the educational sessions, the Promotional Seminar features numerous social events, highlighted by the Ballpark Outing at Regions Field, where the annual Golden Bobblehead Awards are presented.
The 2015 Promotional Seminar in Columbus, Ohio drew over 400 attendees, making it the highest attended Promotional Seminar since Minor League Baseball took over planning and execution of the seminar in 1998. Additionally, the 2015 event featured a slate of nearly 40 speakers, more than 40 exhibitors and a number of job seekers.