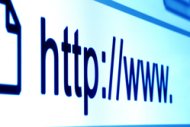 Whatever the size of your organisation, a website is an essential business tool. However, having a good-looking site is no longer enough — it needs to actively work for you by attracting new business and driving your company forward. Greg Poulson explains how to create a hard-working website in ten simple steps
Few small businesses have huge budgets to spend on their website, but the good news is that focusing on certain key principles when developing and managing your website will almost certainly yield a healthy return on investment. Here are ten steps to ensure your website works hard for your business.
Be business driven. Remember that your website is a business tool, and whilst good design is important, first and foremost it should be business-led. Increasingly, current and potential customers engage with a company via their website, so think of it as your showcase. Consistent branding and developing a defined identity starts with your website — and is then carried on through marketing, stationery, brochures and other activity.
Review and reflect. You may be perfectly happy with your website, but like any practice or procedure it's important to review it regularly to ensure that it still meets your needs and that of your customers. Does your site reflect changes in the marketplace? Does it still address your target market? Are the design, content and graphics still relevant? Does it accurately showcase your business? If your website has been up and running for several years it's difficult to remain objective, so it can be helpful to get an opinion from an outside source who can bring a new perspective.
Differentiation through design. People have such short attention spans and they will quickly leave a site that doesn't capture their attention — and that's where great design comes in. Thanks to faster broadband speeds and improved software, website design has evolved hugely. Graphics and images can now be bigger and better, and are a key part of establishing and reinforcing your branding and identity. Great design is also another way that you can really differentiate yourself from the competition, so ensure your site looks attractive and professional, as well as being functional. Ultimately, this will help to increase visitors, page view rates — and new business.
Work in progress. A website should be continually developing. Unfortunately, many people tend to think of their website as a finished project, similar to sending a brochure to the printer, failing to take advantage of the fact that a website can and should be regularly updated by changing and adding relevant content. This can be done by writing blogs, adding to news sections and creating links to and from your site. This is important because clients, visitors and search engines are attracted by active sites. For example, if Google sees that content is being updated, it will visit a site more often, revising listings which is likely to improve both Google and page rankings. However, there is a specific skill to on Google. These may refer to specific products or services, geographical areas or a particular customer need.
Getting to number one. When people look for products or services online, the chances are that they will use a search engine, so it's crucial that your site is picked up by them. Smaller companies might think that only larger businesses can achieve page one of Google's listings, but actually any company can rank highly if they use the right techniques and are...