An investor's guide to the online advertising industry (Part 13 of 14)
Worldwide digital advertising growth
In 2014, worldwide digital advertising spending will be 25% of the total media ad spending—according to eMarketer's estimates. In four years, digital will account for 38% of global ad spending. This proportion is the same as TV. TV held the biggest share of spending for more than a decade.
The growth in online ad spending is driven by an increased number of internet users. Currently, more than 2.92 billion people worldwide access the internet—up from 394 million in 2000. The internet provides a platform for billion dollar internet companies. The platform allows the companies to grow and expand in various sectors.
In 2013, globally mobile internet user penetration was 73.4%. It will be more than 90% in 2017. Mobile internet usage helped users access information on the go. Internet users had mobile internet usage on smartphones and tablets. The growth in smartphone usage is driven by consumers' constant connection to entertainment and media apps. Read more about this in Why increasing mobile device use influences Internet companies.
The Internet.org project
Facebook launched the Internet.org project in 2013. The intent was to bring affordable Internet access to everyone around the world. The project was launched between Facebook (FB) and six mobile phone companies. The companies included Samsung (SSNLF), Ericsson (ERIC), MediaTek, Nokia—now acquired by Microsoft (MSFT), Opera Software, and Qualcomm (QCOM). Facebook's initiative intends to meet demand and connect everyone with each other.
Last year, Facebook acquired Pryte. Pryte has the expertise to offer affordable Internet access through partnerships with mobile operators and content providers. Later this year, Facebook expects to launch the free basic Internet service in a number of countries.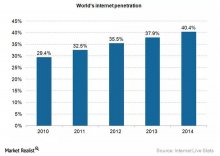 Enlarge Graph
Internet penetration is increasing at a slower rate
According to a report from Internet Live Stats, and as the above chart shows, the world's Internet penetration increased slowly. It increased from 29.4% in 2010 to 37.9% in 2013. It increased to 40.4% in July 2014.
This means that more than half of the world's population is still without an Internet connection. Facebook wants to provide free basic Internet service to users. It wants to increase Internet penetration. Increased Internet penetration would help Facebook gain more users.