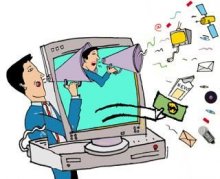 The number of the World Wide Web users is always on the rise worldwide and the internet is being used by people of all age and at all times of the day. The World Wide Web has become one of the most used means of communication and entertainment. Every day we use social networks or messenger apps to reach our friends. Internet is slowly substituting traditional entertainment, the way people get their news and other products or services.
Companies realize that handing out a promo product such as business cards, mugs and pens is too expensive and give poor results. 'Traditional' marketing formats such as magazines TV, newspaper, radio and others are lost in the oblivion.
Benefits of online advertising
Online advertising, however, is much less expensive and reaches a much more wider audience and will probably give you more profit than traditional advertising. It has a lot of advantages that traditional advertising haven't even dreamed about. This new form of advertising gives such wide possibilities, that it makes your head spin: video advertising, advertising on social networks, mobile advertising, e-mail advertising, banner advertising, Google Search advertising and a lot more. These are the benefits of online advertising:
Less expensive. A main benefit of online advertising is that it has a much affordable price when compared with the traditional advertising costs. On the internet, you can advertise at a way more inexpensive cost for a much wider audience.
Wider geographical reach. Online advertising gives your campaigns global coverage, which helps your online campaigns reach more audiences. This will definitely help you achieve superior results via your online advertising strategy.
No rigorous payment. This is another appealing benefit of online advertising. In traditional advertising you have to pay the full amount of money to the advertising agency, no matter the results. In online advertising however, you have to pay only for the qualified clicks, leads or impressions.
Easy result measurement. The fact that it's so easy to measure makes online advertising more appealing than the traditional advertising methods. You can find a lot of effective analytics tools in order to measure online advertising results, which helps you know what to do and what not to do in your following campaigns.
More targeted audiences. In comparison with traditional advertising, online advertising helps you to easily reach the targeted audience, which leads to your campaign's success.
The disadvantages of online advertising are less, but they exist:
Intrusive ads. The nature of a lot of online advertising ads and campaigns is intrusive, that's why browsers' pop-up blockers can frequently prevent ads from being presented. Almost all browsers now block pop-ups. There are also extensions available for the Chrome, Opera and Firefox browsers, which will block ads on websites. More and more consumers use these methods to avoid seeing so much the advertising.
Copyright problem. Your advertising materials are automatically available for everyone in the world. They can copy it, regardless of the legal limitations. Trademarks, pictures and logos can be copied and used for commercial purposes. In traditional advertising, such as TV, radio and newspaper advertising, where pictures must be replicated, copying the content is much more difficult.
Examples of online advertising
Blendtec
Blendtec's popular 'Will it Blend?' Youtube videos is frequently said to be the best example of 2013′ online advertising. They demonstrate the quality of their products (blenders and further kitchen accessories) by creating videos where one of their staff members put in the blender something you'd never think of and blend it. They even got the 2013 Housewares Executive's Gold Innovation Award for this ongoing advertising strategy. Below you can watch one of their funniest videos and understand what innovating online advertising is:
Old Spice
The firm has done an excellent job of engaging users on their Facebook page. This company gives a great example of how social networks should be used in advertising. The reason why this brand is so popular is that it offers businesses a place where they can interact with their customers. It is another form of communication, and it is also a place where consumers are going to communicate with one another.
Effective online advertising
Burger King
We all remember Burger King's Facebook campaign 'Whopper sacrifice'. In 2009 Burger King launched its best advertisement. Facebook users that like their page had to use a Facebook plug-in in order to delete 10 friends and get a free Whopper as an award. This campaign had huge success and increased Burger King's visitors and sales.
McDonald's
In 2011 in order to celebrate their 30 years anniversary of offering their services to customers in Spain, McDonald's have rolled out a promotional video clip on Youtube. The video plays backwards so it starts in 2011 and goes back through the years, and looks at the campaigns and events that happened each year until it reaches the beginning – 1981.
Categories:,