Social logins remain an easy way for brands and publishers to get people to register to use their sites and apps in order to collect more information about those people - who opt-in to share that information - and do things like customize the articles or products they're shown.
Not surprisingly, Facebook remains the most popular platform that people use when logging in to brands' and publishers' sites and apps. The social network closed 2015 with 62% of the social logins tracked by Gigya, a company that provides tools for brands and publishers to let people log into their sites and apps using their Facebook, Google, Twitter, Yahoo or other accounts. Google followed Facebook with a 24% share of the market, trailed by Twitter at 7% and Yahoo at 4%.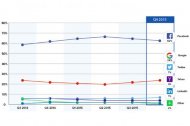 Credit: Courtesy Gigya
To get a view into the social login scene, Gigya processed 58 million social logins across 700 brands and publishers' properties during the fourth quarter of 2015. And before delving into each company's respective share of the social login scene, it's worth looking at how often each of the four platforms is offered as a social login option. Again, not surprisingly, Facebook and Google are offered as options nearly 100% of the time. Twitter and Yahoo aren't. Twitter is offered 72% of the time and Yahoo 35% of the time.
In addition to the sheer size of Facebook's user base, Facebook has benefitted from the privacy controls it presents people when they log into a third-party site or app using their Facebook account, said Reeyaz Hamirani, Gigya's head of corporate communications who collected and analyzed the data that was provided to Ad Age. For example, people can see what information from their Facebook profile the brand or publisher wants to access.
Facebook has added to its social login lead specifically on mobile where it accounted for 80% social logins in the fourth quarter, compared to Google's 14% and Twitter's 5%, Mr. Hamirani said. Yahoo registered less than a percentage point.
While Facebook's dominance shouldn't be surprising, Google's relative resurgence of late may be. During the second half of 2015, the search giant shaved four percentage points off Facebook's share of total social logins. Facebook still ended the year with more than double Google's share of the market, but the third and fourth quarters marked the first time that Facebook experienced share declines in two consecutive quarters since Gigya began tracking social logins in 2011, Mr. Hamirani said.