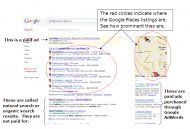 Remember the old days (three years ago), when you could pay for a Yellow Page ad and call it done? People who were referred to your business or looking for what you were selling or offering could find you in the Yellow Pages. It's very different online. There isn't "one place to go" online. Yes, Google is dominant but there are more than 60 different places people go when they search online. All those sites and directories let you set up or claim a free listing for your business. That's like the equivalent of a white pages listing for your business but you have to be proactive to set the listings up.
Know this: You don't need to have a website to market yourself or your business online. A website helps but it isn't necessary. Most listings include the basic information people need to know about your business. A website or mobile website (designed specifically for people on small phone screens), can be linked from these listings to your website to give people more information about your business. That gives you a competitive edge against your competitors that don't have a website but it isn't necessary for someone searching online to find your business phone number and address. They can get that through the directory listings.
1. If you're selling locally, claim your Google Places listing. It's also sometimes referred to as Google Maps. Google Places is what Google calls their free listings for local businesses. Make sure your listing is set up properly so you get the most visibility for people actively shopping or researching online. More than 60% of online searches are done using Google so this is the most important listing to set up.
A Google Places listing includes business information, customer reviews and promotional information about your business. When people search on Google, they will find your business listing and your business on the Google map. This is free and there are only seven businesses that are listed per category. For example, "Dentist Dallas" has only a lucky seven dentists that will appear in a Google search result for someone searching for "Dentist Dallas." This is free. The first seven companies that claim this search keyword category are listed. Once set up, the Google Places page is automatically listed and ranked in Google search engine results. You'll need to keep your Google listing up-to-date. You can add offers and specials, along with videos. It's like a mini website about your business and it's free!
2. Set up a Business or Merchant Facebook Page Your Facebook business page will appear prominently in search results. While just creating a Facebook business page will help you to appear on a search result, to gain the full benefit of Facebook's social media power you'll want to actively participate by posting a status update at least two times per week. Learn more about Facebook as a marketing tool by reading MarketingZone.com's article on Facebook Marketing.
3. Set up a LinkedIn Profile for yourself and your business LinkedIn now allows companies to set up a free personal and Company Page. Those will be listed in search results. They're another way for someone to find you or your business online.
4. Set up a Wikipedia Entry While Wikipedia promotes itself as an encyclopedia, not a business directory, the fact remains that thousands of businesses have created an "entry" for themselves in this highly visible website. Wikipedia frowns upon anything considered "self promoting, " so keep your entry to the facts of your business - who you are and what you do.
5. Set up listings at the other 56 reputable sites and directories online Get your business listed with all the online directories. There are 20 important directories to get your business listed in like Yelp and Yellowpages.com. Then there are dozens of specialty and niche directories that may, or may not, be relevant to your business.
Know this: There are a lot of scams for listings and directories. Most of the directories work like the Yellow Pages where a general listing is free (if you set it up and "claim it") and then they try to get you to buy a larger and more expensive ad in the directory. If you have to pay to set up a listing, it may be a scam. Learn more about: Business Listings
6. Make sure people on mobile phones can find your business! With so many people buying web-enabled phones, the Internet has become the new Yellow Pages. You need to make sure that anyone with a phone that has web access can find your company (you don't need to have a website to do this) Learn more with: Mobile Marketing How-to Guides
TIP: There are companies or individuals you can hire to set up all your listings. Some will also create your website and a mobile website for you and keep that updated. It's time consuming to do all this so it may be worthwhile to have someone trustworthy do this for you. You'll need to keep your listings up-to-date and respond to reviews and post offers. You can do this yourself or hire a person or company to do all this for you. It may cost between $50 to $300 a month for this type of service. That's inexpensive advertising if you think about it. If people can't find you or your business online, then you are losing that much or more every month. Find Marketing Experts to Hire lists your alternatives with pros, cons and cost ranges to help you decide what to do.