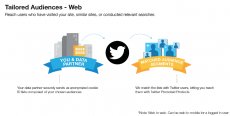 Digital advertising is an ever-changing industry; in order to stay ahead of the competition, advertisers are constantly trying to keep up with its current state, but just as importantly, identify where they should be moving to next.
The major (and highly anticipated) digital marketing shift confirmed on May 5th, 2015 was mobile search overtaking desktop search. Obviously, Google AdWords had been preparing for this with the roll out of "enhanced campaigns" on July 22nd 2013, when they no longer let campaigns be separated by device. This is because users are constantly connected to the web across all of their devices and they wanted to streamline advertising on their platform.
Below are some paid advertising tactics and channels that will become more of a focus for advertisers as we move into 2016. The main reason for these shifts is the constant need to be in front of the right audience, with the right message, and targeting them in a more sophisticated manner to continue to generate a positive ROI despite the increase in the costs of advertising online as more competition enters the auctions. The days of targeting simply based on keywords and hoping for the best are numbered; your customers and competitors are more sophisticated, so your advertising must be, too!
Leveraging first party data (i.e. email addresses) in digital advertising is in full-effect and will continue to grow on different platforms. This strategy alone should give companies more reason to try to capture email addresses and properly segment users to display them with the right message. In addition, advertisers are leveraging "similar audiences" to expand the list and success of this technique. Basically, the different channels look for similar users to the ones that have converted based on their internet usage behaviors and demographic data. Below are several products using this "offline" data, allowing them to target the same users online.
CRM retargeting (Display)
Gemini Custom Audiences (Yahoo)
Tailored Audiences (Twitter)
Custom Audiences (Facebook)
More and more advertisers are shifting budgets toward YouTube advertising. Many advertisers are finding that the audience they want to target is on YouTube more than cable television. According to YouTube, "YouTube reaches more 18 to 49 year olds than any cable TV network in the U.S." Another shift is how people watch television and videos. More people have moved to the on-demand lifestyle, watching videos (YouTube) and TV (Hulu, Netflix) when they want, so it's important to match advertising to customer behavior patterns. Finally, YouTube will continue to invest more time and efforts into understanding and being able to show the impact of YouTube advertising on an advertiser's business. They've already released different ways of measuring YouTube's impact on your brand including a "brand lift" study and impact on brand and non-brand search (but minimum requirements are necessary in terms of spend).
Search advertising is far from dead, but advertisers are diversifying their investment and investing more outside of search to help target their audience no matter where they are online. Similar to investing more in YouTube advertising, advertisers are also investing more in programmatic display, paid social (Facebook, Twitter, Pinterst, LinkedIn), native advertising, and content syndication platforms (Taboola, Outbrain, etc.). With the average CPC's in search consistently increasing, it's essential to test channels outside of search to stay competitive and profitable across digital as a whole. In addition, channels outside of search allow you to target specific audiences that you have less control over in search through behavioral, interest, and demographic targeting.