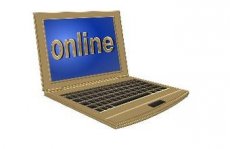 Tease people with your online ads.
goldener laptop image by michanolimit from Fotolia.com
Because people get so much of their information from the Internet, your small business will need to advertise where your customers surf, work and play. As Internet advertising has evolved, website owners have become increasingly creative in the types of online advertising opportunities they offer. Knowing your different options which help you make more effective online advertising buys.
Banner Ads
The most familiar from of online advertising is the banner ad. Banner ads are blocks of advertising placed on web pages, most often at the outer edges. Because they are small, banner ads do not offer you much of an opportunity to sell. Your goal is to get potential customers to click on your banner and navigate to your website. Rather than put your name, logo or phone number on a banner, ask a question or include an intriguing picture.
Text Links
You can pay websites to put a text link to your site on theirs. Text links often go inside a web page's article, creating a more natural fit for your ad within the story your potential customer is reading.
Related Reading: Tips for Advertising an Online Business
Coupons
A growing trend among retailers is to offer printable coupons on websites. You can put these on your website, or place them on other sites where you think your customers might visit. Some marketers of online coupons offer consumers many different coupons at one site. You can sign up to have your coupons included for a fee or at no cost. With the no-cost method, the person advertising your coupon sells the coupon to the consumer, keeping the money from the sale of your coupons. This gets customers into your place of business at no cost, other than the coupon value.
AdWords
Google offers advertisers a lead-generation system through its AdWords program. You choose key words people use during Internet searches and pay for your ad to appear on pages associated with those words. For example, if you sell bread, your Google ad will appear on pages with relevant content, such as those with the words, "sandwich, " "bread" or "whole wheat."
Websites
A website is an online advertisement that allows you to deliver a complete message or messages to current and potential customers. Even if you provide a variety of information on your site, you are still presenting an image and providing information to the public.
Videos
You can embed video into the pages of websites to demonstrate a product or service using pictures and sound. In addition to placing video on your website, you can create short 10- or 15-second ads that appear at the beginning of other websites' videos.
Social Media
Getting consumers to spread the word about your product or service helps give your business credibility. Consumers are more likely to trust a product their friends have used than one they've only seen advertised. Many businesses use Facebook, MySpace, Twitter and other social media sites to advertise their companies.