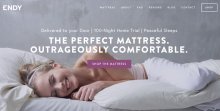 1. Having a Strong Design Makes a Huge Difference
Think of it like this: you're walking down the street and are looking for a place to grab something to eat. Do you go into the restaurant with a cracked window, marquee signs with flickering lights, and with a strange odor coming out from under the door? Or, do you go into the restaurant that has beautiful type for their logo, bright lights, and open windows that welcomes people passing by?
Probably the latter. So you should be applying the same principals to your online storefront—your website.
But what makes a website's design trustworthy?
Take a look at these two websites for instance. Which one are you more likely to shop on?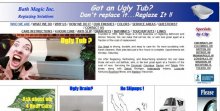 You would probably feel more comfortable giving your credit card information to Endy simply because of the design and simplicity of their website. There's a certain confidence that Endy perpetuates. It might just be that the hero image model genuinely looks happy compared to the angry woman on Bath Magic Inc.
I don't mean to pick on Bath Magic Inc. though — as chances are there's reason behind their design choices. And that's totally fine, but if you do decide to go this route, make sure it ties together well with your brand strategy.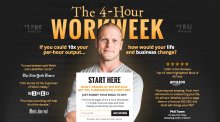 With that in mind, here are some quick tips on how to design for trust:
Avoid all caps paragraphs
Try to avoid comic-sans font (unless it's a part of your overall strategy)
Ensure your website doesn't have any poor grammar
Keep the layout of your website simple
Note: If you have the capital available, it's definitely worth hiring someone who has a vast understanding of design to help with redesigning your storefront if you think it needs some work.
2. Add a Hint of Personality to Your Website
Isn't it nice when you visit either a retail store, or an online store, and feel as though you're in good hands?
You might not have even spoken to anyone yet—but you know from a purely visual aspect that everything will be okay. You just know that the people behind the business really care about their brand, and even the products they carry.
Whether that be conveyed through the messaging on their website, storefront, or even something you read online—it's clear that they've built a sense of trust with their customers. But how do they do it?
For someone who is unfamiliar with Tim, his website is absolutely perfect. I mean, he's literally putting his face on the frontpage of his website!

Not only is the design absolutely stunning, but it includes the following without having to dig for more information:
A picture of Tim Ferriss so we know who he is
Quotes from reputable brands
Star ratings from Amazon
A clear call to action
For an online store, a strong message on the frontpage of your website might be all it takes. Or, an about page with pictures of your employees and mission statement is a good idea too. Try to humanize your product pages as well by including pictures of real people using or interacting with your product.