Choosing the right descriptive words is very important for an ad agencies new business.
Ad agencies tend to use the same descriptive words when promoting themselves. Little reason why prospective clients can't find anything appealing when all agencies look and talk just alike. Using the same old tired agency speak.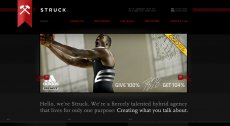 The site design is nice and clean. But I wasn't a fan of their blog. To much about capabilities, awards, etc. not enough benefit and resource to build a prospective client audience.
What I was impressed with was the copy used to describe their agency
The call themselves a "hybrid agency." I don't recall another agency using that word as an agency descriptor. But it unlocks a lot of positive feelings such as efficiency, innovation, clean, cool, etc.
Their tag line also identified them with the growing influence of social media upon our industry, "Creating what you talk about."
People are the new medium. The water cooler is the new prime time. This is a brand new era. Struck is the new brand messenger.
Create your website and/or blog with your audience in mind. Do it without thought about another agency's critique. Be creative in the use of words used to describe your agency. They should be differentiating and appealing to your target audience.