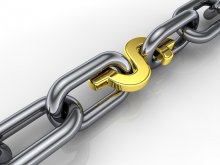 One of the most sought after ideas of making money online is that you can get paid to post links. The idea is that you don't need your own website, you don't need any products, and well, you don't have to do any real work. It's as simple as copying/pasting some text with a link into forums, blogs, and on Facebook, Twitter, Google Plus, and other social networks.
But the concept of easy money should be the first red flag that sends you running.
This is not something you want to get involved in.
Yes, you can get paid to post links. But there is more than one reason why it's not worth your time and effort.
Which Companies Pay For Link Posting?
First, let's briefly take a look at why companies want these links, and why they actually pay you to make them.
In search engines, it's very important to rank well in order to get customers. Better rank means more money for your company. One way to gain that rank is by getting links to your website. Essentially, these links are a 'vote', saying that your website is good.
More links = more votes = better rank = more money.
So, a few years ago, people figured out that they could just buy a bunch of votes for themselves. It was a good idea for a while, and worked pretty well. Not anymore.
Not A Long Term Money Making Strategy
Unfortunately, these 'votes' (actually called backlinks) don't really work that well anymore. Some people who are behind the times or missed the memo still talk about the advantages of backlinks, but really, the smart business owners don't pay attention to them any more.
This means that link posting is a dying industry. Google spends billions on research each year in order to prevent people from benefiting from unnatural linking practices. They have pretty much figured out that paid links do not actually mean a site is good an should rank well.
They are changing their search engine to reflect this. Now, using paid links can actually hurt your business! Now, smart companies are not buying links because they know it might hurt them in the long run. Some individuals still do it, but they are typically not very savvy business owners, and trying to 'trick' Google into liking their website.
Not A Way To Make Money Fast
If somehow, you actually land a job making a decent commissions for each link posted, it's still not a way to make fast money online. You will only get paid for each link that actually STAYS active. That's because many of the links you post will be deleted by other people that recognize them as spam. Even well meaning linkers will have the majority of their work deleted.
After waiting 30 days to see which links stick, then you'll receive credit in your account.
I can't predict how much a link is worth, but it's certainly not the $25-$30 advertised on some of these sites. My guess is about $1 per active link is reasonable.
Now you have to wait for your payment. Waiting for commissions to go through can take 30-60 days to prevent fraud and other payment issues. If you made $20 in September, you will have to wait until October or November to get your payment.
Don't forget that many places have a payment threshold you need to meet in order to receive a payment. If it's your first month, I doubt you will meet it (you need experience, right?). For example, a $100 payment threshold is common. That means if you make $50 in September and $50 in October, you have to wait until December to get your commissions from 3 months ago!
And after two months of waiting, you will likely lose even more links, further reducing your commissions. This is not going to be a fast way to get money into your account. If you have that much patience, you should really be spending time creating your own online business. Very often, the 3-month point in an internet business is when traffic starts to take off, and you can start seeing some sales.
If you can dedicate several months to creating links for companies, then you certainly have the guts it takes to build an online business!
It's Spam And Will Get You Banned
Before I wrap things up, I want to cover the moral and practical aspects of paid link posting, and why you should avoid it (If I haven't already made that clear enough).
Spam
Do you really want to get paid to spam everyone's favorite websites? Is this how you envision your online career?
By posting unsolicited material on places like Facebook, YouTube, Twitter, and popular blogs, you will be ruining the experience for everyone. I can guarantee that you hate seeing this stuff, so why would you want to produce it?
A lot of folks find themselves in a situation where they need money and don't think about the consequences of spamming online, but it really does annoy people. Some sites even have to shut down because of the overwhelming amount of spam they receive. There is no "legit" way to post links for companies, so please consider the impact you have on websites that all of us use and enjoy.
Examples:
Getting Banned From Websites
Even if the moral plea to keep the internet free and clear of spam does work, you need to consider the practical consequences of posting spam links.
If you use your personal accounts, they WILL get banned. Link posting is a huge No-No on any legit site, and if you do it, no matter how "good" or "useful" you think the company is that you represent, you will have one or more of your accounts banned.
Even if you create multiple fake accounts, they can always ban your IP address. I suppose you could use a proxy or VPN and get multiple IP addresses, but then you are spending more time and now investing MONEY into this venture. Is it worth the trouble to make a few dollars? No.
The #1 Fear of Making Money Online
Most folks try to get paid posting links because they want to make money, but are afraid of making a website.
Most like, YOU have never made a website before.
Phhhhuleeeze!
This is not 1996. You can make a fully functional, beautiful website with the click of a button. You can also do it for free. Seriously. Building a website should NOT be your #1 fear (I'll tell you what it should be in another post). Even newbies can make websites these days. I learned how to do it at the Wealthy Affiliate Online Business Training Center.
Building websites and selling products/services from the blog is how I make money online. It's how a lot of folks make money online. It's simple, but it works. If you are willing to put in some time to train properly, you could have a real website set up in less than 30 minutes and a legitimate, profitable online business is just a few months.