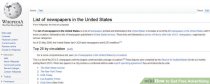 Steps
Utilize conventional advertising media to get the word out about your business.

A press release can go a long way, if you word it properly and send it to the right contacts. Call local newspapers, magazines, radio stations and TV stations and ask who exactly you should send your release to. Make it newsworthy, though, and don't make it sound like a sales pitch.
Do interviews when you can. Contact local reporters when you're having special events or doing charity work and get some free coverage about the event and your business. This works well with all types of traditional media sources.

Harness the power of the Internet. You can put a free listing of your business on most search engines, many of which have maps to help people find you. Make use of keywords when you're writing content for your own website as this will help you get ranked higher in search engine results. You could also try a quid pro quo with other local businesses: You put your ad on their website in exchange for them putting your ad on theirs. At the very least, you could exchange links to each others' sites.
Work with local schools, businesses, churches, hotels and non-profit organizations. By supporting your community, they might support you. You can achieve this by offering a discount or doing some cross-promotion. You will drum up some word of mouth this way as well. You could also offer to speak to different groups about your business or a mutual interest. Career days and job fairs may also glean you some free advertising.
Set up accounts on social networking sites. These are all free and you can attract attention from different demographics depending on what sites you use. Facebook, MySpace and Twitter are geared toward younger generations while LinkedIn targets professionals. There are niche sites out there as well; find one that suits your business and sign up for a new way to gain some free publicity.

Online communities and blogs can serve the same purpose. By creating a profile page and posting on forums, people can benefit from your expertise while finding out more about your product. Blogging is also effective at getting your message out while giving consumers some information that may help them.

Stir up some word of mouth. By giving referral discounts to customers who do business with you, they will likely tell their friends to patronize your store. Giving away free items or deep discounts will also create a buzz. Hand out your business card to everyone you come in contact with and always deliver the product you promise. The best free advertising stems from a product or service that is high in quality and delivered reliably.