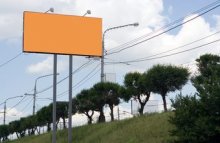 Some forms of advertising can be very expensive.
orange billboard on the street under blue sky and clouds image by Anatoly Tiplyashin from Fotolia.com
Conventional advertising can be expensive; and businesses, whether large or small, usually don't have a dime to waste. Billboards and television ads are great ways to advertise if you have the money, but if you don't, you need to find ways to get your business known. Opportunities for free publicity and advertising space are readily available, particularly on the Internet.
Press Releases
For a little effort and time spent writing up a piece about your business, you can post a press release for free on a number of websites. A press release should be written in standard press release form and should highlight something special about your business-not just the standard information. If, for example, you are opening a new office, are offering a special service, have recently helped a charity or have a special event coming up, you could write about that. Always include contact information, including cell phone numbers, website addresses and e-mail addresses. Press releases can also be sent directly to newspapers and radio and television stations. Find the contact information for stations and newspapers on their websites and send your press release to the appropriate department.
Classified Ads
Many websites, like craigslist.com and jihoy.com, have free classified ad listings for small businesses offering services. If you sell something (like cars or furniture), you can list your inventory separately on these and other classified ad websites in individual categories. Be sure to specify you are a dealer or small business. Before posting to classified ad websites, check the website's policies page. If the site prohibits commercial postings, you don't want to be in violation and risk being banned from the site-or getting a reputation as a "spammer."
Related Reading: Free Ways to Advertise Your Small Business
Blogs
Starting your own blog and guest posting on other blogs are no-cost ways to get advertising for your products or services. You can also offer to give the writer of the blog a free sample of your product or service in exchange for a review on the site. If you start your own blog or guest post on another, write something informational, not just promotional. You don't want to pepper your copy with points about why your product is great. Write about a current event, or write a "how-to" on a topic related to your product or service. For example, if you own a cleaning company, write about stain removal-how to deal with common stain issues and when to call a professional. Always include your name, website address, brief information about your expertise and any other pertinent information in a tag line at the end of an article you write, whether on your own blog or someone else's.
Resources